Dennis the rescued ex-racehorse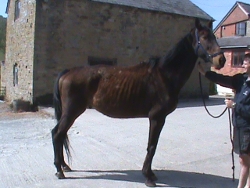 Dennis is a 17hh throughbred ex-racehorse aged around 20 years old, having raced in The Grand National at some point in his career. He is reported to have fallen at the famous Beechers Brook where a number of horses crashed onto him. His back has been damaged, he has what is termed a 'roached' back, this is where there are a number of raised vertebrae. His pelvis has rotated and he had some lameness in his hind end. He had other physical problems and he was very weak. His standing position shows he is not comfortable, he is reluctant to bear weight on his right hind, stands very much under himself in front, tension is shown through his neck and is pulled up through his back. When he arrived with me he was turned out in the field to eat plenty of grass and treated with Equine Muscle Release Therapy.
I was keen to help a horse in need and approached the KC horse rescue at Bodenham. Dennis was an ideal candidate considering his injuries and his obviously lack of general health. The treatment has allowed his body to make a speedy recovery. When he arrived he was lethargic and weak. Soon his character started to show and he was soon cantering and bucking around in the field. He is a very gentle kind character and is now very happy munching grass! The way he stands has improved markedly, obviously he has gained weight but notice how his weight is distributed much more evenly, the tension has improved in his neck and he is much more comfortable through his back (due to the modification in his hind end and back I feel he will always have some degree of roaching as it was extensive along with huge pelvic rotation, although I will continue to work on it). His movement and strength has improved considerably and he continues to maintain greatly improved health.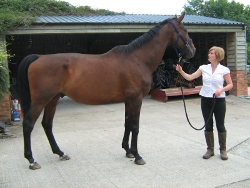 The photo above was taken on his arrival, this one is just 10 weeks later showing a remarkable improvement.
I am endevouring to continue to help Dennis and others like him so any contributions to this very worthy cause would be much apprieciated. My treatment will always be free so funds are needed for general costs, grazing, feeding, worming etc. So please do call now if you wish to help.